Betsy Woodruff

Broker / Owner

in Columbia, MO
Associate Information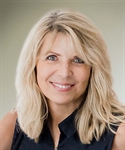 Professional Designations
CLHMS, e-Pro, PSA, REALTOR, SRS
Expertise Types
Agri Business, Commercial, Condominiums, Farms, Land, New Homes, Other, Ranches, Relocation, Residential, Residential Investment, Rural Land, Single Family Homes, Townhomes
Allow me to introduce myself… I'm an active REALTOR here in Columbia and also the Broker-Owner of NextHome Paradigm. Although I was born and raised in Mexico, Missouri, my early career path took me to south Texas, then to Kansas City, and finally to Los Angeles. I returned to Columbia 30 years ago specifically to build a business, raise my daughters, and re-establish my roots. There was really never any doubt in my mind, or in my heart, that Mid-Missouri is my home — and I absolutely love it here.

Before obtaining my real estate license I spent more than 20 years as a senior-level marketing professional and business owner. The most important lesson I learned during that time was that 'big picture' success requires unwavering attention to the smallest details — a revelation that has also helped me consistently rank among the top 5% of individual mid-Missouri agents in annual sales volume year after year. I've built a reputation for outside-the-box creativity, exceptional personal service and for being able to maintain a sense of humor, even when challenges arise. I never underestimate the value of being able to step back, catch your breath, and keep it all in perspective.

I'm backed by the world-class resources of NextHome® — repeatedly recognized by Inc. 5000 and Franchise Business Review as one of the fastest-growing and most dynamic brands in the country. The accolades are well deserved and my clients reap the rewards of working with a brokerage that prioritizes a results-driven client experience, deeply rooted in a culture of putting "Humans Over Houses."

When I'm not working, I enjoy spending time with my family, my horses, and my two miniature Dachshunds. During the fall months you can find me cheering on my beloved Mizzou Football Tigers and Kansas City Chiefs!

My Approach to Selling Real Estate

I work full-time as a Broker and REALTOR® which means that I have a full-time commitment to YOU. From our first contact to your closing, you can rest assured that your best interests will always be my first concern.

I never lose sight of the fact that my clients are experiencing a significant "shift" or transition in their lives during the time we're working together. These transitions are often joyous or exciting like a marriage, a growing family or a new job! Occasionally, however, they can be sad or uncertain. I've learned over the years that my clients' circumstances and concerns rarely differ with the price of the property, so whatever brings us together, my job is to listen, guide and skillfully facilitate the process for you. It's also my responsibility to provide thoughtful, accurate answers to your questions and find workable solutions to any challenges we encounter along the way.

I've found that my role, many times, has less to do with the actual property and more to do with managing emotions, stress and logistics. And that's okay! I'm here to act as your advocate and trusted advisor, as well as a licensed fiduciary working on your behalf. Ultimately, my job is to ensure that you're 100% satisfied with the outcome of your transaction and I'll work extremely hard to make sure that happens.